The world's first Sony Pictures Entertainment's Theme Park, Columbia Pictures Aquaverse,a fully branded Movie Theme and Water Park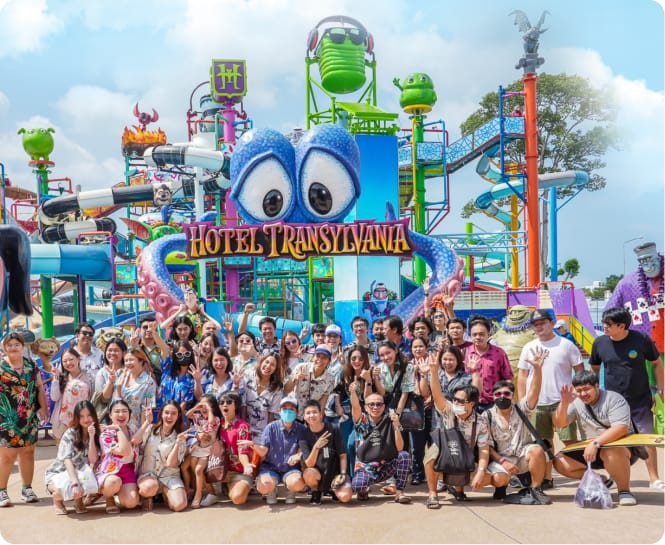 Ultimate venue


for your fun-
filled corporate
family day

Your team and their families will experience the ultimate, unforgettable Corporate Family Day adventure, where lasting relationships and unforgettable memories are created.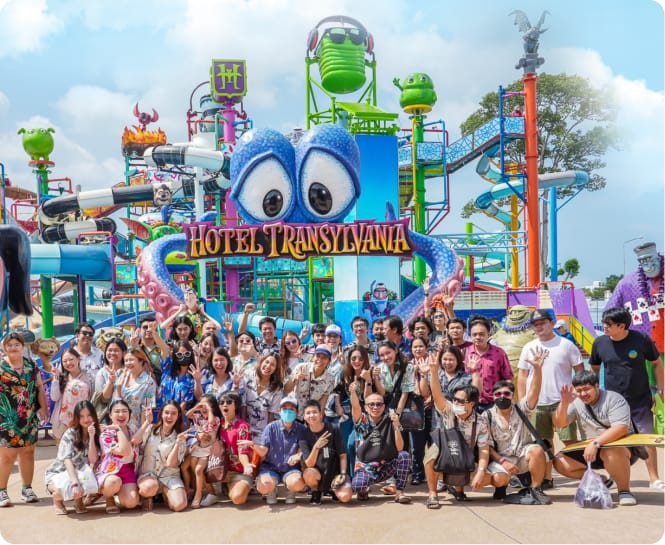 Discover More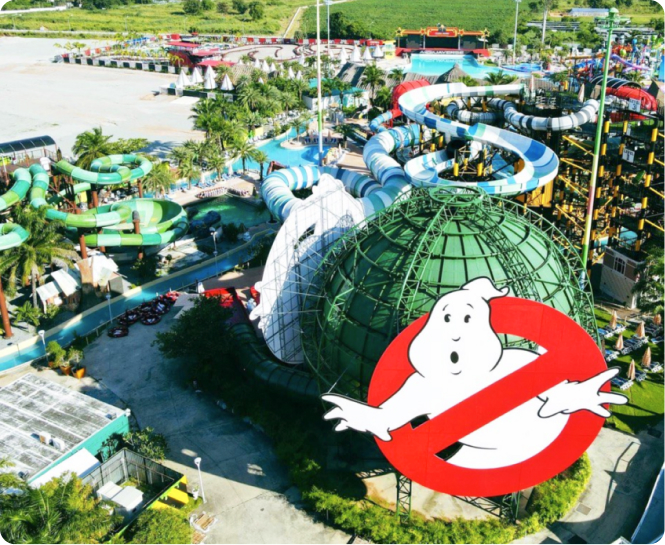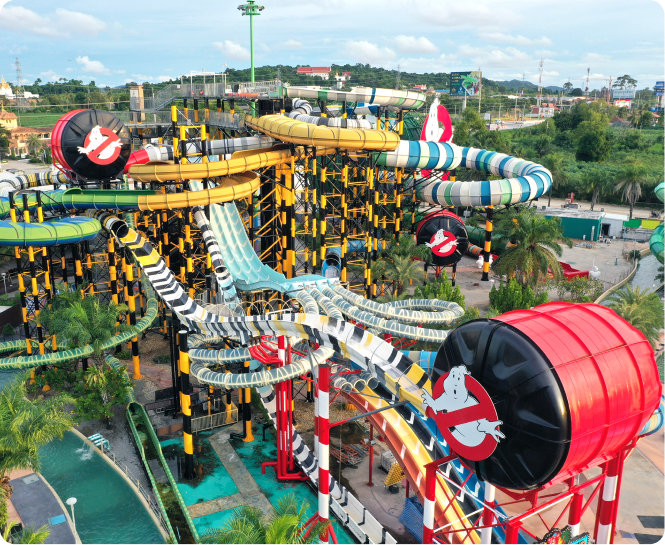 Look no further than Columbia Pictures Aquaverse, the world's first Sony Pictures Entertainment's Columbia Pictures fully branded Movie Theme and Water Park.
Located just 15 minutes from Pattaya and 90 minutes from Bangkok. With a wide range of attractions and activities that cater to all ages, your employees and their families are sure to have a blast at this unique and unforgettable corporate event.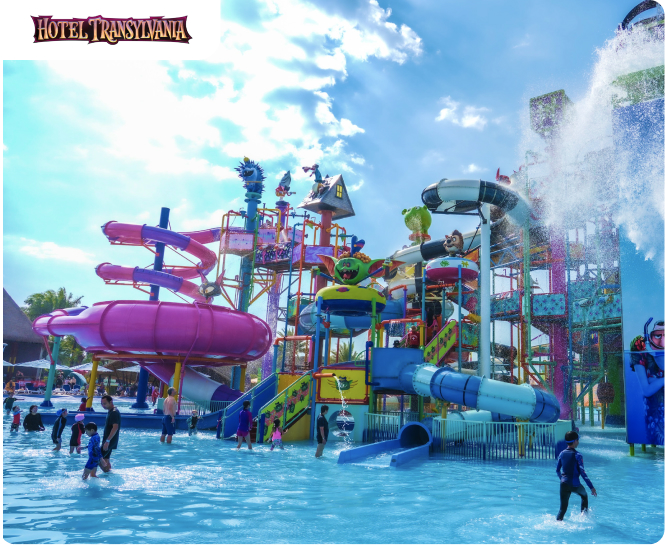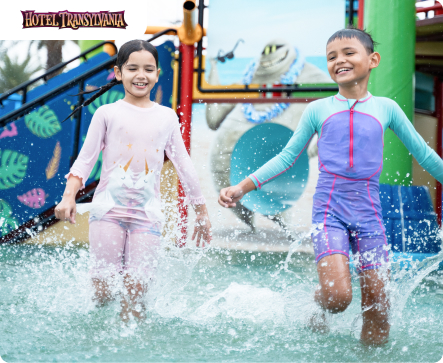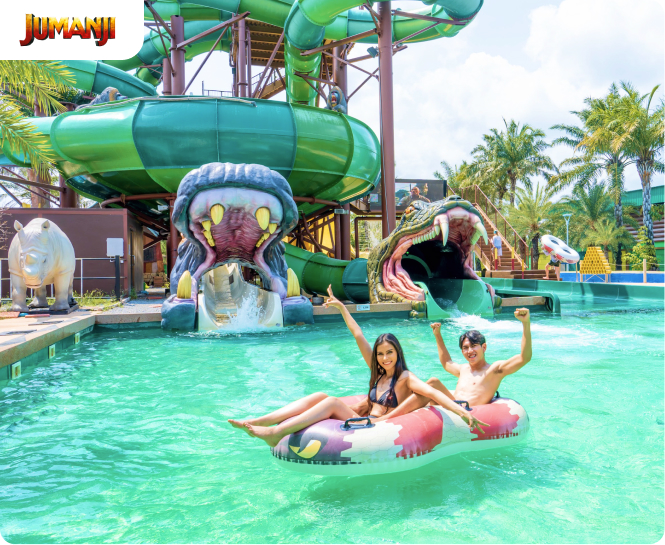 Get ready to dive into the world of Hotel Transylvania at our themed aqua play area. Splash around with Drac's Pack and enjoy a spine-tingling adventure as you explore the mysterious world of Jumanji at Jaguar Mountain. But that's just the beginning!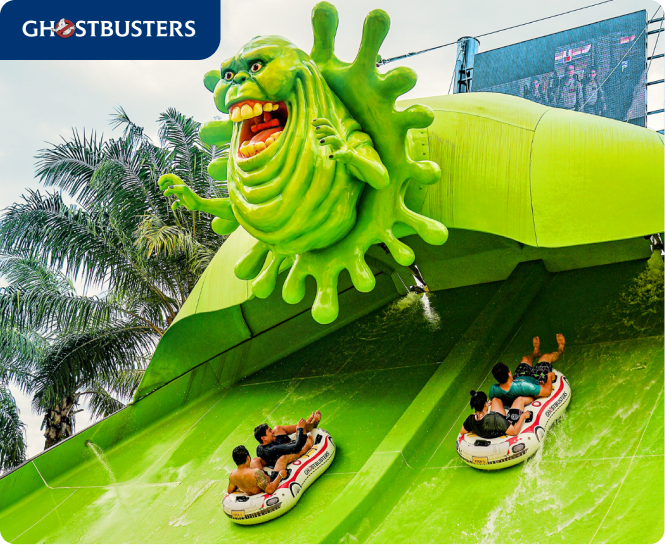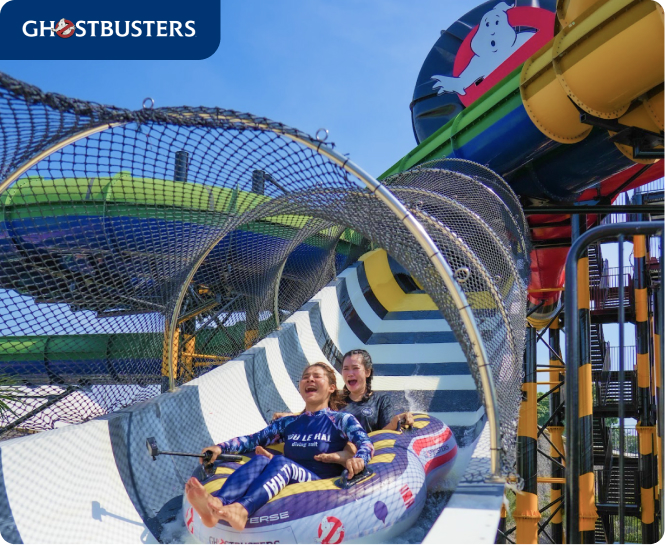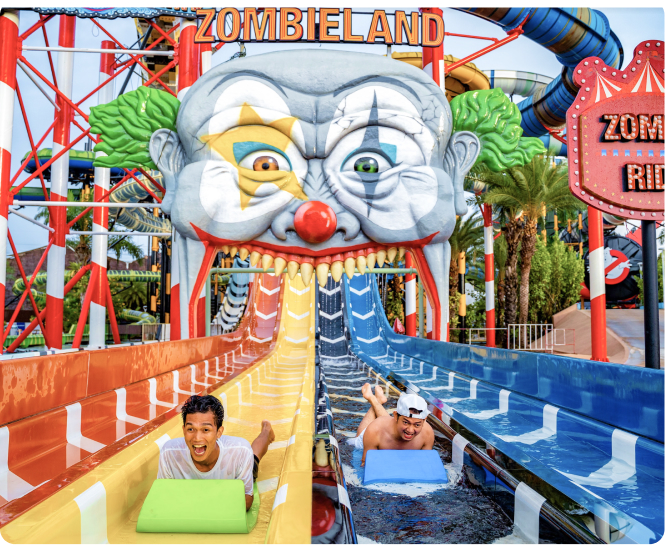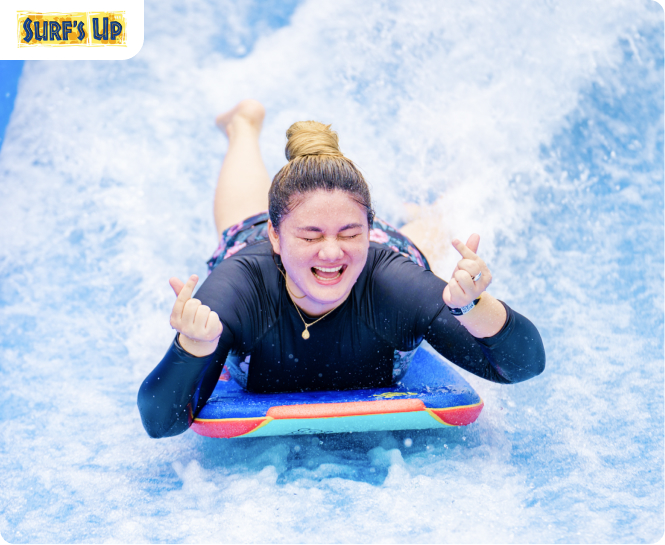 For an adrenaline rush like no other, experience Asia's first Ghostbusters supernatural water slide! Zip across ghost traps and twist and turn in total darkness before dropping into the world's first gigantic Stay Puft-themed water dome. This thrilling family raft ride will have you screaming with delight!
But wait, there's more! Experience the heart-pumping action of Zombieland, where you'll race down a slide, dive headfirst, and fly towards a zombie clown and water barrier. Or show off your surfing skills on the Surf's Up Flowrider with Cody Maverick and his penguin buddies.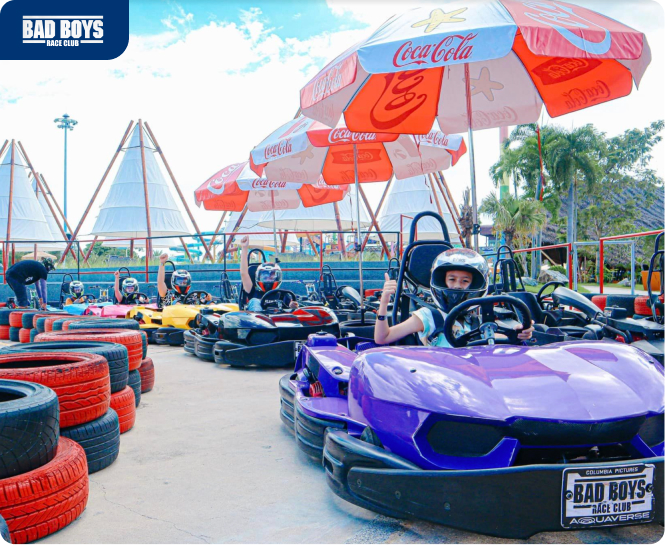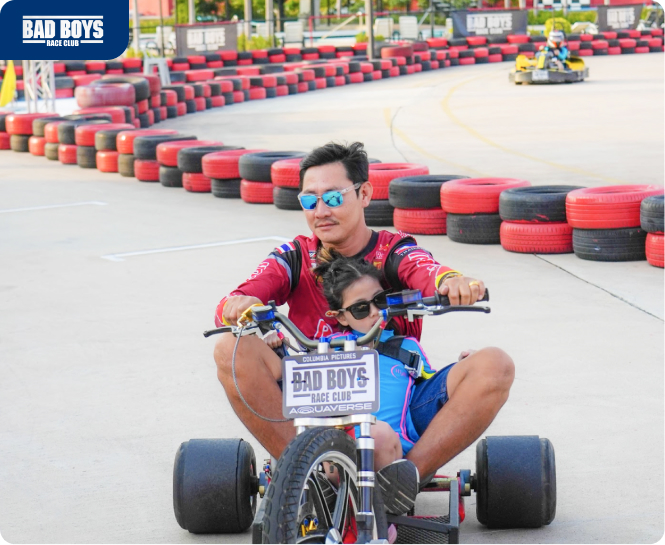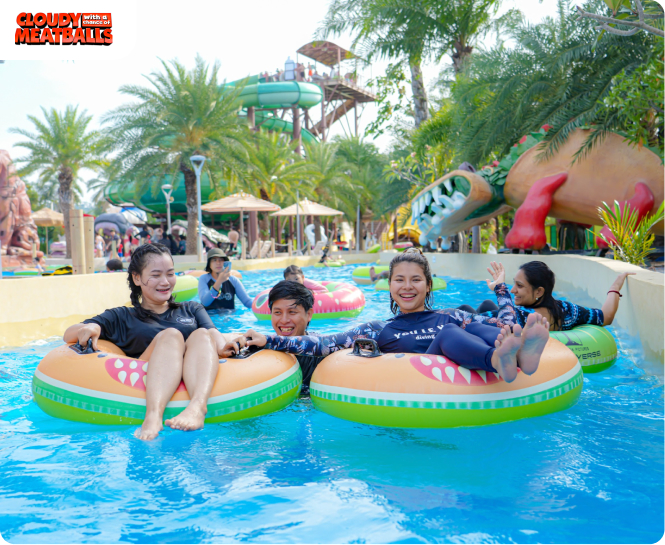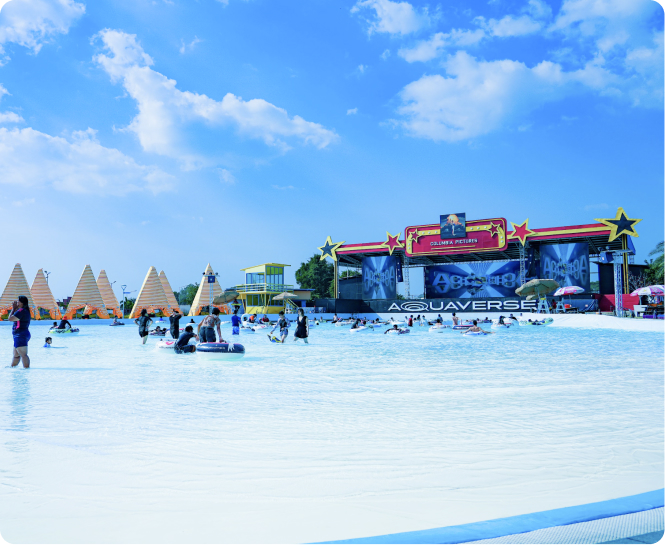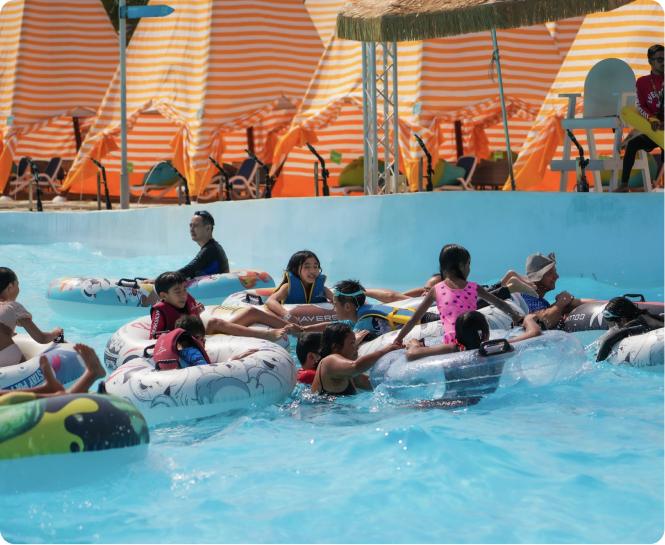 If that's not enough, buckle up for speed and explosive go-kart action on our brand-new outdoor track.
Enjoy the day club zone, complete with Jacuzzi pool, pool bar, and restaurant, and cabanas for the ultimate pool party experience.
Finally, take a break from all the action and relax on the Cloudy with a Chance of Meatballs Swallow Falls River, or catch some waves at the man-made lagoon. With live music events, movie screenings, and shows on the main stage, this event is sure to be a hit with your employees and their families.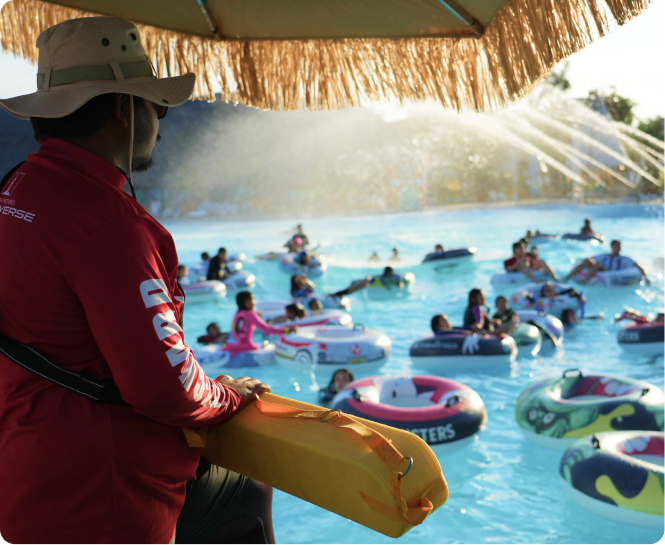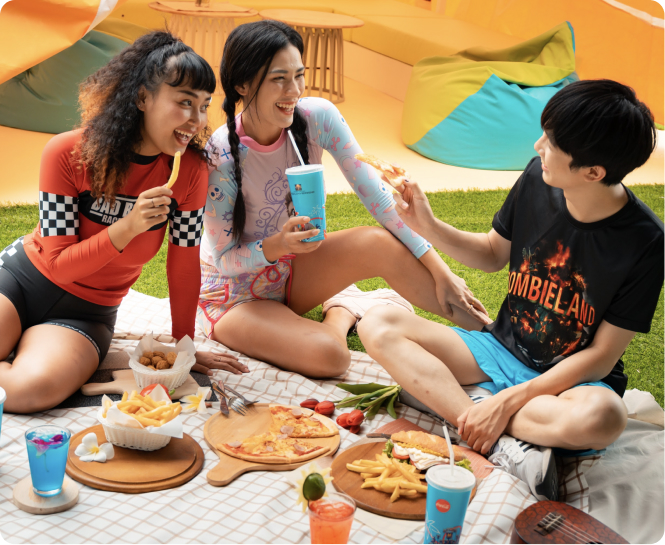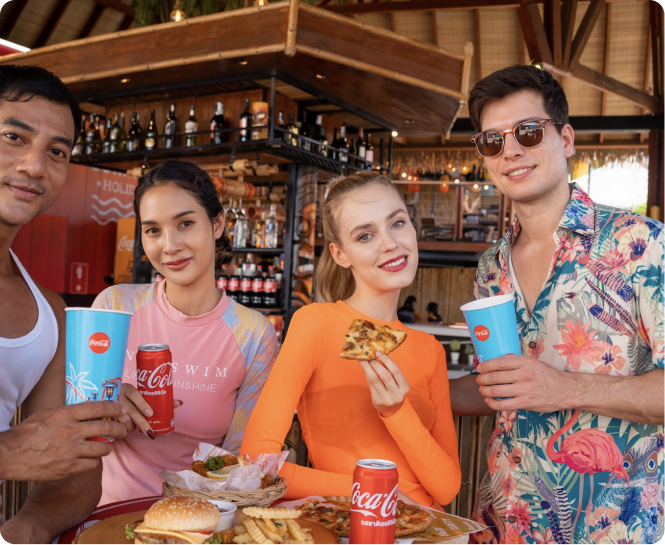 Columbia Pictures Aquaverse takes safety seriously, with all equipment and materials sourced from international, world-leading partners that provide high-quality, safe materials. The park has a team of trained personnel, including certified lifeguards, to ensure that every guest has a safe and enjoyable experience.
Voted #1 venue for Corporate Family Day, Columbia Pictures Aquaverse can cater to groups of 50 to tens of thousands of people, making it the perfect venue for any corporate event.
The restaurants and bars offer a variety of dishes and refreshments, including halal and vegetarian options, and guests can pay cashless with their wristbands.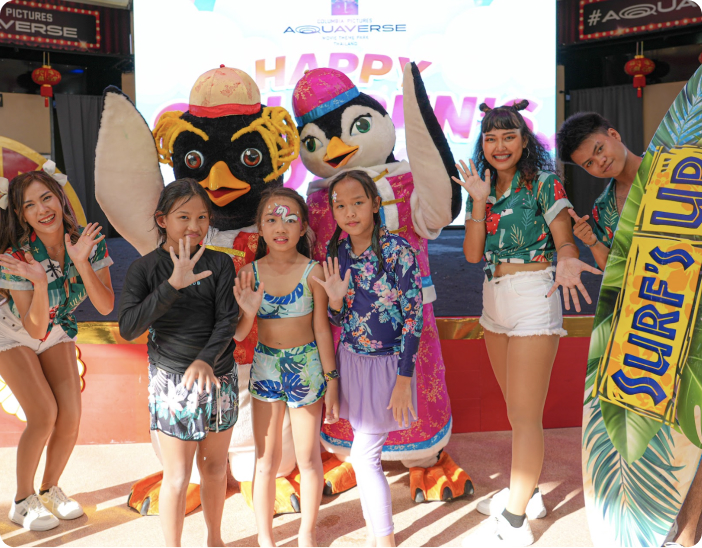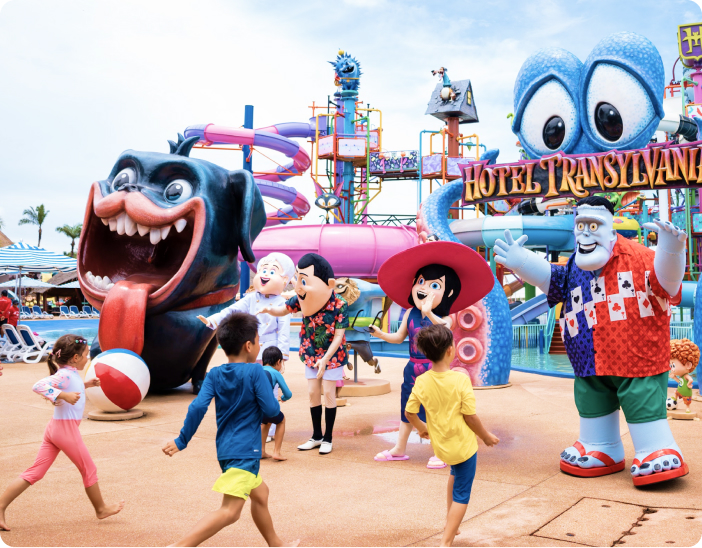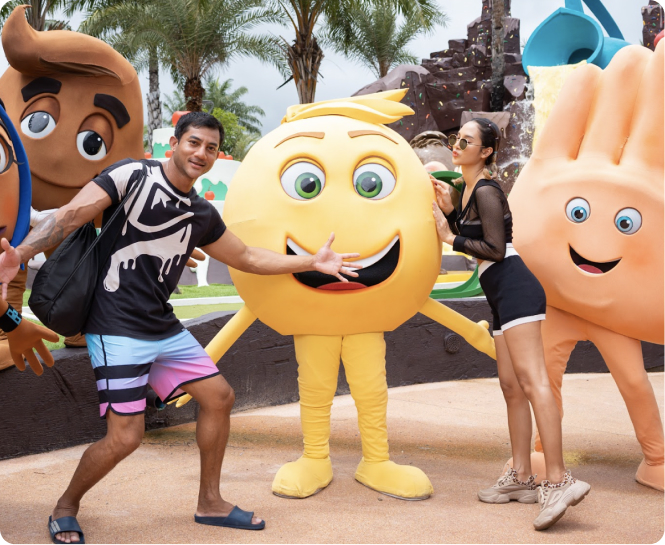 Personalized event planning services ensure that every aspect of the day is perfectly executed, from the opening ceremony to entertainment and catering. The day's activities can be tailored to fit the company's objectives and budget, and the services can be adjusted to fit any budget. We offer free parking, park access, and all water-based rides, as well as a welcome banner or photo op board, a stage, light and sound system for the opening ceremony, entertainment shows, meet and greets with famous movie character mascots, and a private area reserved for your group.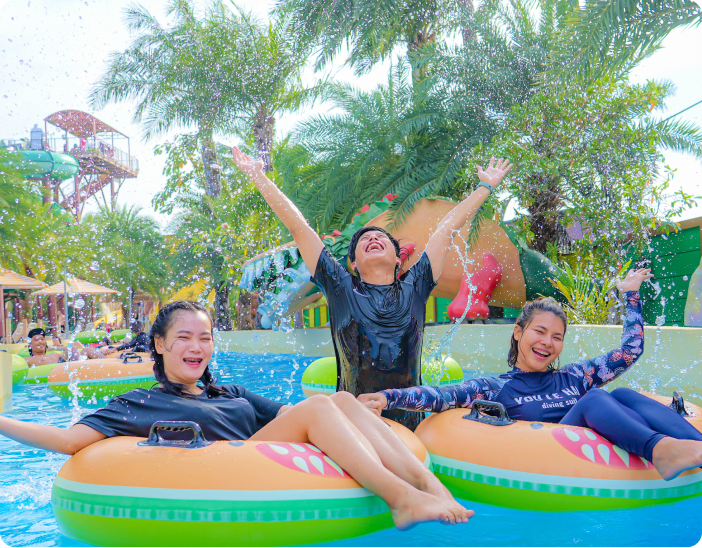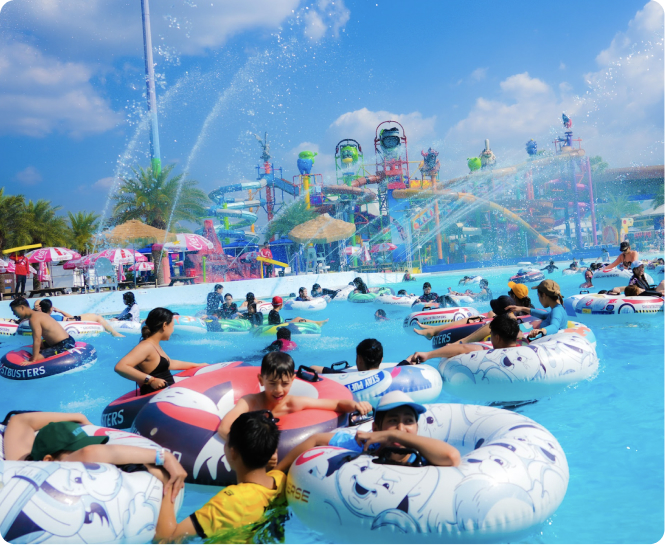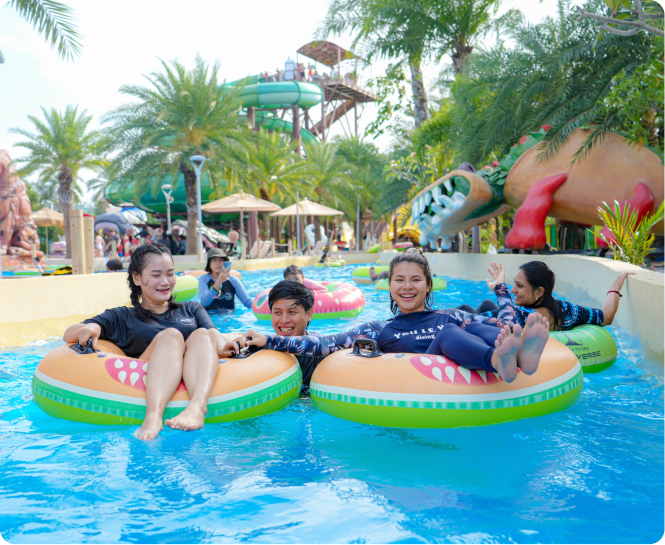 Hosting a corporate family day at Columbia Pictures Aquaverse is a great way to show appreciation for your employees and foster a sense of belonging within the company. It provides an opportunity to create new relationships and memories outside of the work environment, which can lead to a more cohesive and productive team.
In summary, Columbia Pictures Aquaverse Movie Theme and Water Park is the ultimate venue for a fun-filled corporate family day out. Contact our corporate guest services team today to book your unforgettable day at the global-branded top attraction in Pattaya!
---
The Ultimate Reasons
Ultimate
Value
When you book your corporate family day with us, you'll get unbeatable pricing and packages specifically tailored to fit the needs of your business - no matter if it's an intimate gathering or a full-blown company retreat. With our competitive rates and experienced event planners, there's nothing stopping you, your staff and their families from experiencing the best, ultimate corporate family day!
Ultimate
Family Fun
Get set to make lifelong memories with your colleagues and their families here at Columbia Pictures Aquaverse! Our venue is designed to bring everyone, young or old, together in a fun, unforgettable way. Experience the ultimate family bond during this one-of-a-kind corporate family day adventure that will stay close to your hearts forever!
Ultimate
Branding
Let us help you make your corporate family day event one for the books! Our park is yours for the day so transform it into an immersive and personalised experience that speaks to your company's identity or mission. With our top-notch event planners, your brand will be prominently featured throughout - no more blending in with the crowd here! Create lasting memories as you let us take care of every detail while providing maximum exposure to associates and their families.
Ultimate
Experience
It's all fun and games until someone gets an adrenaline rush from the world's-first fully enclosed water slide and other thrilling rides! That's just a few of the many exciting activities we have in store for your corporate family day event. Plan with us today because regardless of age or size our top-notch facilities are here to provide enjoyable experiences that everyone can participate in such as sumptuous food options and cozy lounges await you, your colleagues and their families!
Ultimate
Movie
Experience
Get ready to soak up the sun and experience the world's first ever Columbia Pictures themed water park with your colleagues and their families! Meet your favourite movie characters and enjoy our state-of-the-art facilities that gives "movie night" a whole new meaning – play any movie on our large LED screens and witness this unforgettable view from our mega wave pool! It'll be a corporate family day event one will never forget.
Ultimate
Memories
Make your corporate family day a cherished memory that will last forever! Here at Columbia Pictures Aquaverse, our water theme park is designed to bring you, your colleagues and their families closer together with an incredible selection of thrilling rides, activities, and amenities. Get ready for the ultimate unforgettable corporate outing experience - guaranteed to create connections that'll stand the test of time!
Make your family
day a smash hit!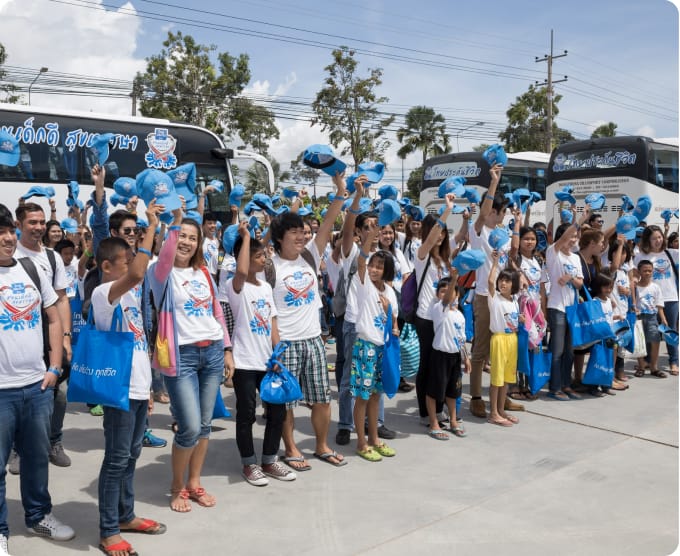 we offer even more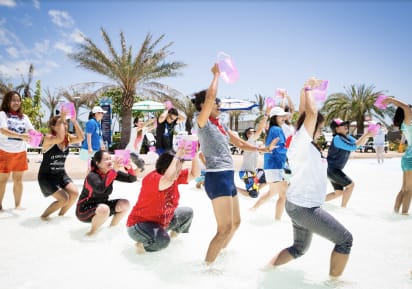 Ultimate Team Building Quest
Teamwork
Time Management
Communication
Strengthen relationships the fun way. Ultimate games and challenges awaits!
Nurture trust and synergy amongst the team and let them bond organically through fun.
Play a round of The Emoji Movie Mini-Golf blindfolded, guided only your team members' voices. Enjoy a friendly competition on the tracks and race for bragging rights with a Bad Boys Race Club exclusive match. Or complete your mission and see which team can navigate through the adventure river at Swallow Falls the fastest.
Let us bring you and your team an "Adventure Beyond the Screen Quest" combining high energy challenges, interactive play, and great prizes!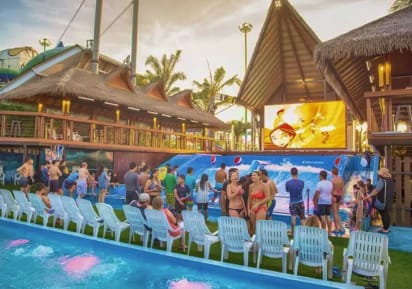 Social Networking Events
Foster community connections with uniquely styled, bespoke events.
Build connections and foster a sense of community a social networking event at Columbia Pictures Aquaverse! Whether bringing people together for a fundraiser, charity event, or a pure networking soiree, we will create opportunities for face-to-face interactions in a relaxed atmosphere.
Organize a themed pool party followed by a dive-in movie night at the Aquaverse Mega Wave Pool. Throw a casual BBQ bash at Firehourse BBQ Grill or Chicken Joe's Grill or talk to us to organize a bespoke event that works for you.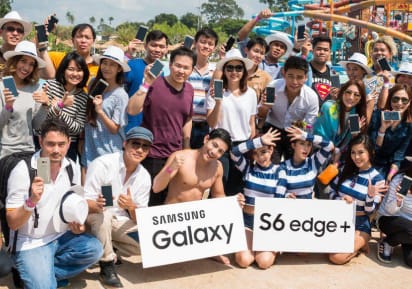 Exclusive Product Launches
Teamwork
Time Management
Communication
Make a splash with our groundbreaking technology to tell your story.
You have one chance to make a first impressive, so make it count! Make a splash with an exclusive product launch at Columbia Pictures Aquaverse, and team with our events planners to see how we can help magnify your message to your target audience.
With the latest in visual and audio technology, including three giant high-definition LED screens and Dolby DTS surround sound, a stage, and a massive lagoon, the Aquaverse Mega Wave Pool is perfect for a high-impact presentation. Want to keep it interactive? Hide teasers along the Cloudy with a Chance of Meatballs-themed lazy river, with a big reveal at the end.
Movies tell stories. Let us help tell yours.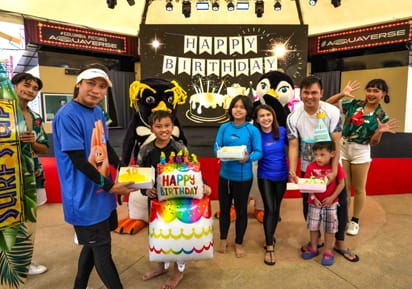 Red Carpet Birthday Party
Be the star for a day with your favourite movie characters and more!
It's your birthday, so be a star for the day with characters from your favorite movie!
Grab your friends for thrills and spills in Jumanji and Ghostbuster-themed zones, enjoy a private lesson on the Flowrider, and join in on the foam party at the Aquaverse Mega Wave Pool.
Keep the gang together in your private cabana, and let us create a custom birthday cake as icing on the day. Birthday packages are customized to fit your party size and theme, so what do you say, let's make it a show-shopper!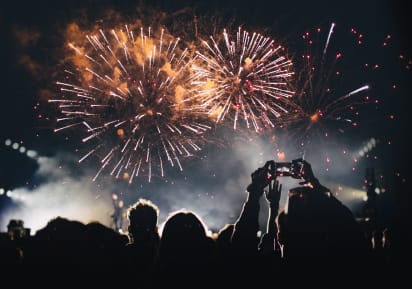 Conserts & Music Festivals
Teamwork
Time Management
Communication
Wanna experience entertainment like never before? We have it all!
Bringing people together in the name of fun? It's kind of our thing.
With three giant high-definition LED screens and Dolby DTS surround sound, the Aquaverse Mega Wave Pool is a concert venue like no other. Our park's sprawling space can also host smaller stages, food zones, and activity areas.
Coupled with our team of experienced event planners – who have experience working with concert organizers for international superstars and DJs – plus in-house electricians, engineers, and theming crew, we can cater up to 20,000 guests for the party of the year.

Testimonial
Mr. Siripakorn Cheawsamoot, TAT Deputy Governor
"The opening of Columbia Pictures' Aquaverse is thrilling news, and it adds another world-class reason to come and enjoy a holiday in Thailand. We are very much looking forward to the park's much-awaited opening."
Dr. Kanit Sangsubhan, Special Advisor on Strategic Development, EEC
"After working with Amazon Falls for four years, I'm so proud to see the opening of the Columbia Pictures Aquaverse which is poised to set new standards for immersive entertainment in the EEC, Thailand. The theme park will be a key component in our EEC Smart City's development plan. EEC will provide our full support, including 5G services and other infrastructure, digital technology, transit links, and partnership with clean energy and investment promotion package to ensure the success of the project and help create a long-term sustainable development in the EEC."
Mr. Jeffrey Godsick, Executive Vice President Global Partnerships and Head of Location Based Entertainment Sony Pictures Entertainment
"I am both excited and proud of what we have achieved at the park. This is a major step in our growing footprint of Location Based Entertainment activations around the world. Today's opening is just the beginning here in Thailand. The future will bring many new statements in hospitality, retail and experiences based on our beloved IP. This region is special for reasons beyond the theme park, and we are very pleased to be part of the tremendous growth plans of the Eastern Economic Corridor."