‹ Back

Bad Boys Go
Karting in Pattaya
Get ready for an adrenaline-packed racing experience at the Bad Boys Go Kart Race Club. Themed in downtown Miami, this first-of-its-kind attraction takes visitors on a thrilling journey through the streets, complete with custom SODI go-karts that boast top-notch performance and safety features.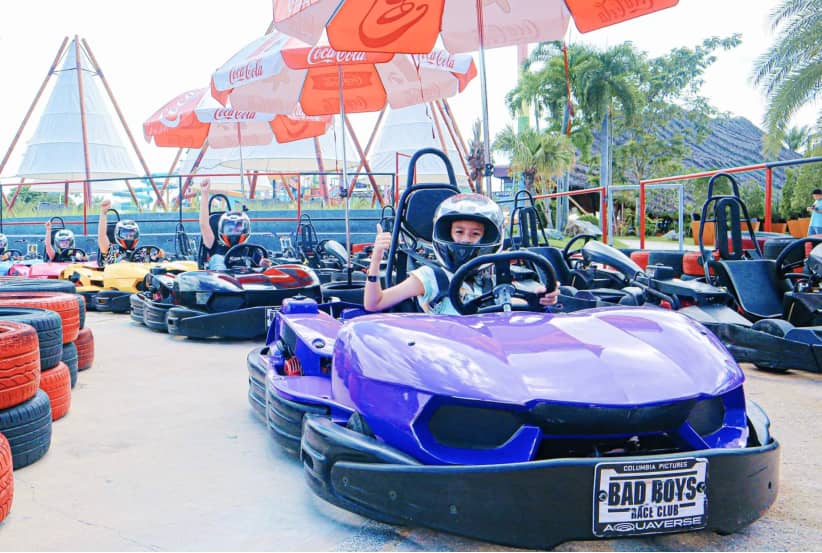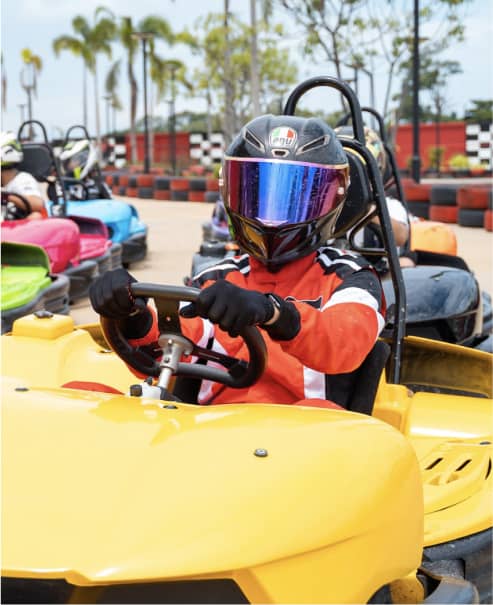 ---
Watch the races unfold from the front row at the rooftop lounge or immerse yourself in the action and race past the South Beach Pool Lounge.
With beautiful jacuzzi pods, a swim-up pool bar, and Lamborghini-inspired go-karts, the Bad Boys Zone, is perfect for group events, birthday parties, family outings, and Instagram-worthy moments!
The Go Karting Zone at Columbia Pictures Aquaverse:
The Bad Boys Go Kart zone at Columbia Pictures Aquaverse features much more than adrenaline-fueled go-kart experiences. This attraction is home to the world's best go-karts, powered by SODI.
As a leader in the karting industry, SODI has a proven track record of producing quality karts that have won titles in international championships. The custom-made SODI/Bad Boys karts ensure that drivers can race safely and comfortably, the karts have a top speed of 80km/h and  feature:
4 stroke, 270cc Honda engines with 9 horsepower.
Adjustable pedals
Adjustable seats
A 4-point safety harness
Enter your racing scores and compete with racers from all over the world for a chance to earn points and improve your international ranking.
Experience the thrill of go-kart racing and have fun with your loved ones at this world-class karting facility. Don't miss the opportunity to be a part of the Sodi World Series Karting and take your racing skills to the next level!
So, come and experience the thrill of racing on a 500-meter-long track, surrounded by the excitement of downtown Miami. Ready for excitement near you?
---
Put your pedal to the metal and gather your squad for 7-10 rounds around the track, each lasting 8 minutes.
---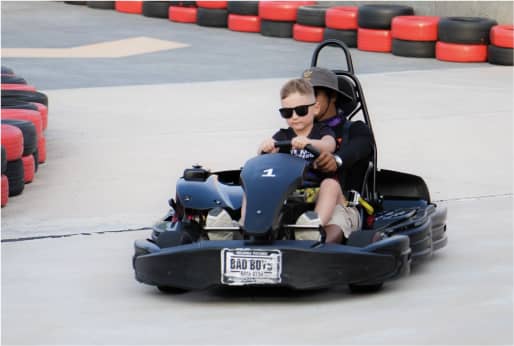 Go Karting for All Ages!
Guests of all ages can join in on the fun with helmets and safety harnesses provided for everyone's safety. Challenge yourself and see who really rules the track in this exciting, high-octane activity!
For children that wish to experience the fun of karting, maybe even for the first time, our experts can give you a feel by driving you around the track or tag driving with you a ride in our dual kart setups.
---
Experience the thrilling sensation of speed on our
fast-paced track configuration.
---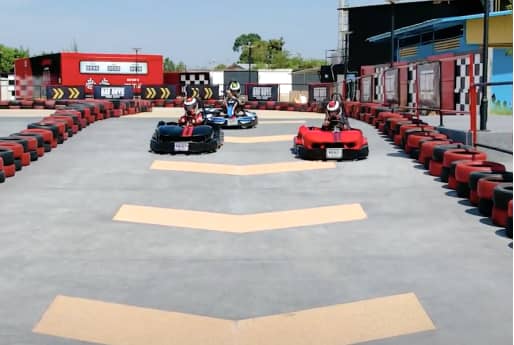 Special Drift Trikes at the Go Kart Zone:
Ready for extreme sport? Unleash your inner speed demon with the adrenaline-pumping drift-kart bike racing experience. Ask our professionals for a lesson and then a race like no other in Asia on our custom-built Drift Trikes.
Featuring the most powerful Go Kart engines, these three-wheeler bikes are fitted with specialized smooth rubber drift tires that skid you into and out of every turn on the track at mind-bending angles and thrilling sensations.
Pattaya Karts taken to a new dimension! Ask our pros to demonstrate their professional drift trike skills and you will be amazed by the 360-degree spins that these trikes are capable of.
Bad Boy Go Karting Zone Pricing:
Admission tickets for Columbia Pictures Aquaverse Movie Theme Park are priced very reasonably as are the Go Kart's which are priced at 600 baht for 8-minute sessions with specials available onsite at regular intervals.
Buy your tickets online
Inquire at the front ticketing counter for Go Kart pricing or come down to the Bad Boys zone during your stay at the park. Sessions can also be bought online in multiples of:
1 Go Kart Session
3 Go Kart Sessions
5 Go Kart Sessions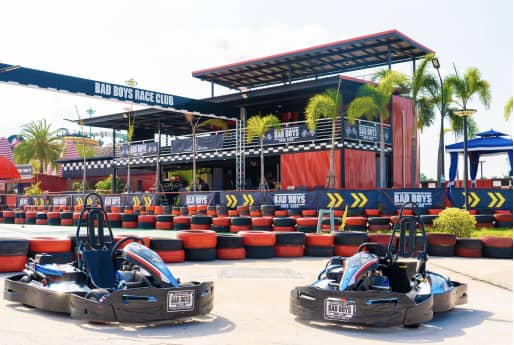 Bad Boys Go Kart Location:
Between races, take a break and refuel with refreshing Miami-inspired drinks or snacks at the South Beach Pool Bar. Perfect for adrenaline junkies who love extreme sports, this unforgettable experience is a must-try for anyone seeking a rush of excitement.
Bad Boys go-karts are located at the back of the park closest to the ocean offering panoramic views of beautiful Bang Sare Bay and the fishing village.
Our Go Kart building has a special terrace viewing area where you can catch stunning views of Thailand's most beautiful golden sunsets.
Surrounding Activities at the Go Kart Zone:
As one of many attractions in this world's first Columbia Pictures Aquaverse movie theme park, the Bad Boys go-kart zone is located adjacent to Thailand's largest man-made wave pool amphitheatre, minutes away from the famous themed Emoji mini golf zone and Pattaya's only flow-rider where you can surf and turf with the best in the industry.

Book Your Bad Boy Kart Tickets Today!
For assistance with your Aquaverse Experience, including package bookings, tickets or corporate outings, please call +66-33-004-999 or contact us today