‹ Back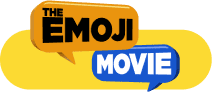 Columbia Pictures Aquaverse Theme Park Mini Golf
Are you looking for a fun, family-friendly activity that's sure to provide hours of entertainment? Look no further than the Mini Golf Zone at Columbia Pictures Aquaverse, where you can experience the ultimate adventure golf course!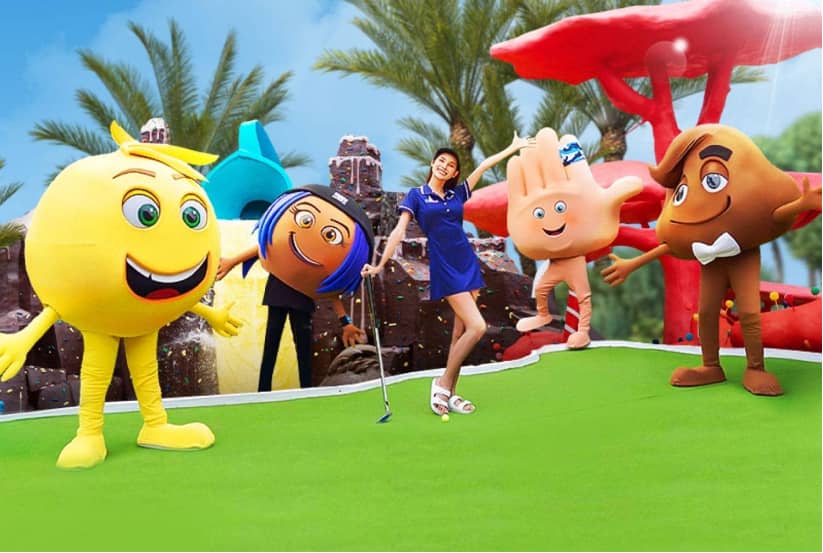 We all love to use Emoji on our social media apps and sites as we convey our feelings and emotions with pictograms and smileys – none more popular than Gene, the lead character form Sony/Columbia's hit The Emoji Movie that debuted in 2017! Ready to join the fun?
Book your tickets online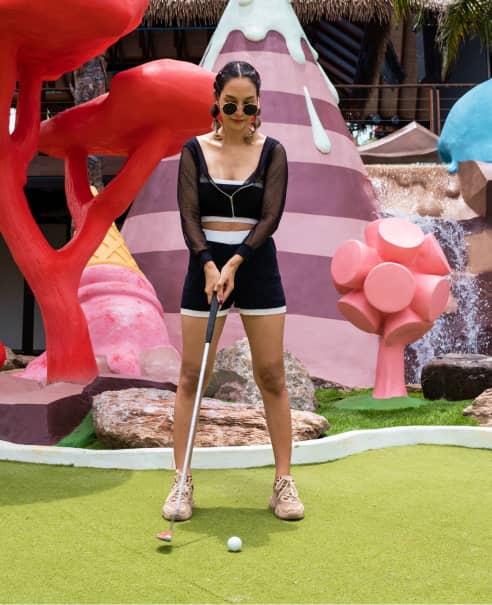 ---
The Emoji Movie Mini Golf in Pattaya
If you're a fan of The Emoji Movie, then you're in luck because the Mini Golf Zone features an entire course dedicated to this popular animated film.
---
Explore the vibrant and colorful world of emojis as you putt your way through 9 exciting holes.
---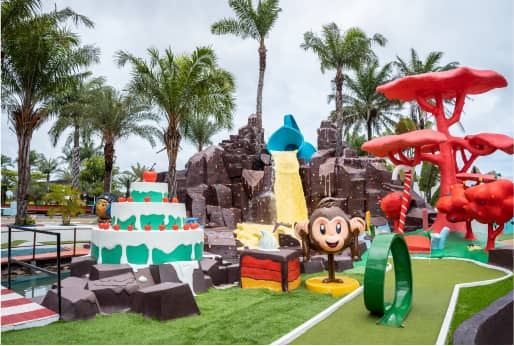 The Mini Golf Zone at Columbia Pictures Aquaverse
Columbia Pictures Aquaverse is a world-class water park that's filled with thrilling water rides and attractions. But did you know that it also features a Mini Golf Zone? This exciting addition to the park provides visitors with a fun and unique way to take a break from the water and enjoy some friendly competition.
What are you waiting for?
Book your ticket online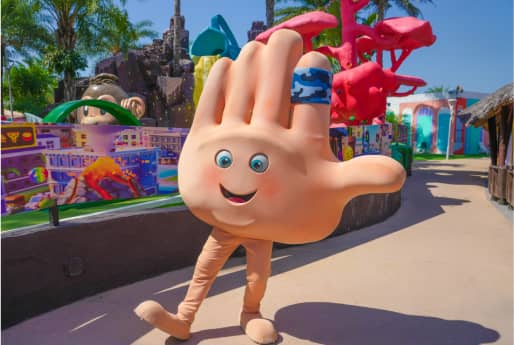 Mini Golf for all Ages!
The Mini Golf Zone is perfect for visitors of all ages. Whether you're a seasoned pro or a first-time mini-golfer, this course is designed to be both challenging and enjoyable. With a variety of different holes and obstacles, you're sure to have a great time with the whole family.
---
Experience the ultimate adventure golf course with friends & family!
---
The Emoji Movie Mini Golf Location
Tucked away in a quite corner behind the Wave Pool, close to the Hotel Transylvania Zone and next to the Surf's Up Zone, the quaint Emoji Mini Golf is a must see and photograph opportunity for everyone who comes to the park.
Don't want to play but just looking for great pictures at the most beautiful waterparkl in Thailand? Step in and pose for your magazine quality photos!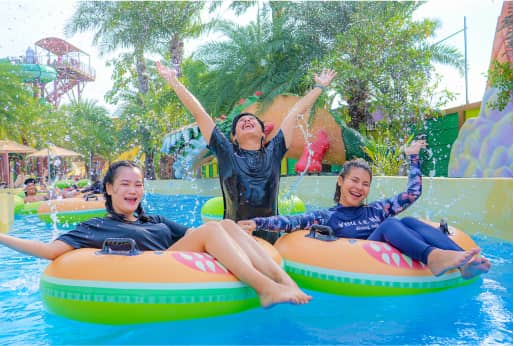 ---
Mini Golf FAQs
What is mini golf?


Mini golf at Columbia Pictures Aquaverse in Pattaya is a fun and challenging game that involves putting a golf ball into a series of holes on a course. The courses are typically smaller and less complex than traditional golf courses, making them accessible for people of all ages and skill levels.

Is mini golf suitable for children?


Yes, miniature golf at Aquaverse is a great activity for children. It's a fun way to introduce them to the game of golf while also providing a fun and engaging experience that they'll love.

How long does a round of mini golf take?


A round of mini golf typically takes around 30 minutes to an hour, depending on your skills on the course and the number of players in your group.

Do I need to bring my own clubs to play mini golf?


No, you don't need to bring your own clubs, we have everything you need ready a the park!
Book Your Mini Golf Tickets Today
Ready to experience the ultimate miniature golf adventure? Book your tickets to Columbia Pictures Aquaverse today and make sure to add the Mini Golf Zone to your itinerary.

With its unique themes, challenging holes, and endless fun, it's sure to be a highlight of your trip.
---
Emoji Mini Golf at Aquaverse!
Columbia Pictures Aquaverse Theme Park Mini Golf is the perfect way to spend a day with family and friends.
The Mini Golf Zone offers something for everyone, from the stunning Emoji Movie-themed course to special adventures!And with so many other attractions at the park, you can easily spend an entire day exploring and having fun. Ready to join the fun?
Book your ticket online
---
For assistance with your Aquaverse Experience, including package bookings, tickets or corporate outings, please call +66-33-004-999 or contact us today